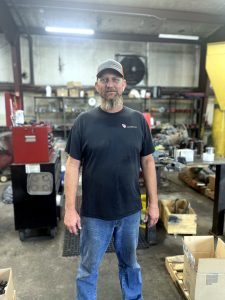 This is Robert McDaniel.  Yesterday, he accepted a position as Service Manager for OEM.  We could not be happier.  Although he just accepted the position, he's anything but new to OEM.  20 years ago, we got to know Robert because we didn't have  a hydraulic test stand.  Robert rebuilt pumps for Darr Equipment, the local Cat dealer, and we would take our rebuilt pumps to him to get tested.
One day, he mentioned wanting to get out of the corporate world, so we hired him to run our hydraulic shop.  One of his first actions was to build an amazing test stand, basically from scratch.  To this day, we still test every hydraulic pump and transmission on that same test stand.  He was a phenomenal employee and established us as a legitimate hydraulic component supplier.
15 years ago, Robert got an opportunity to go to work in the oilfield with a salary and benefits that we couldn't touch.  So, I shook his hand and wished him nothing but success.  Before Robert left, he assembled a notebook with testing procedures for our most common pumps and remained available for technical assistance.  He also remained our friend the entire time he was gone.
Last October, he decided to come back to OEM and we welcomed him with open arms.  As it turns out, his 14 years in the oilfield taught him many things that he may not have learned, had he stayed.  He was put in so many management and crisis situations, he developed nerves of steel.  It was like he went off to college and came back with a Masters degree in kicking ass.  A few months ago, he built us a test stand for axles.  It is a thing of beauty, just like everything else Robert touches.  He rebuilds pumps at about 3 times the pace of anyone else we know.  And they're done right.  I asked him one day how he does 6 pumps when someone else would do 2 in the same amount of time.  He said "I make every move count."
Yesterday, I offered him the position of Service Manager and he accepted.  Robert is the ideal candidate for this job.  Not only do we trust his ethics and judgement, he's also a really likeable person.  He remains calm, confident, and competent, regardless of the situation.  He's a true professional.  You may notice his pants are dirty and his shirt is sweaty.  Robert leads by example. Welcome back sir.  With your help, we're going to take OEM places we've never dreamed of.
Jeff Bower